Calculating a cumulative college GPA can be overwhelming, mostly when dealing with longer semesters and the rest of it.
But not anymore, we've found an easy way to calculate your cumulative college GPAs by using the cumulative college GPA Calculator.
The Cumulative GPA Calculator is based on the 4.0 Conversion scale, so you really don't have to worry if your college's grading system is on the 4.0 scale. They are starting from A+ to E/F Letter Grades.
Our easy-to-use Cumulative College GPA Calculator will help you calculate your overall college GPA within minutes.
How To Use the Cumulative College GPA Calculator
If you have your Current GPA and Credits. Just input it in the sample box below else you can leave it blank.

Then use the instructions below to calculate your cumulative college GPA.
1. Select Your Grade
To start calculating your Single GPA in other to find your Cumulative GPA, first select your grade. To get your grade, you can ask your teacher or check your noticeboard to find it.
Grades can range from an A+ to an F. For each course, choose a letter grade from the drop-down menu.

2. Input Your Credits hour
Then you can input the credit hour. For example, if you have earned an A+ for a 4-credit-hour course, then Input 4 in the box next to the course name.
If you have more than four courses to calculate in each of your semesters, Just Click the Add Course button to add more courses.
And if you equally need to calculate your Cumulative College GPA, you can click the +Add Semester button to Add another semester.

3. Result of Your College GPA Calculation
After selecting your grade and inputting your credit hours, you would see your GPA and the Overall GPA Updating.
Make sure you save the result by clicking the SAVE RESULT button and also bookmark the calculator to reference for the next semester.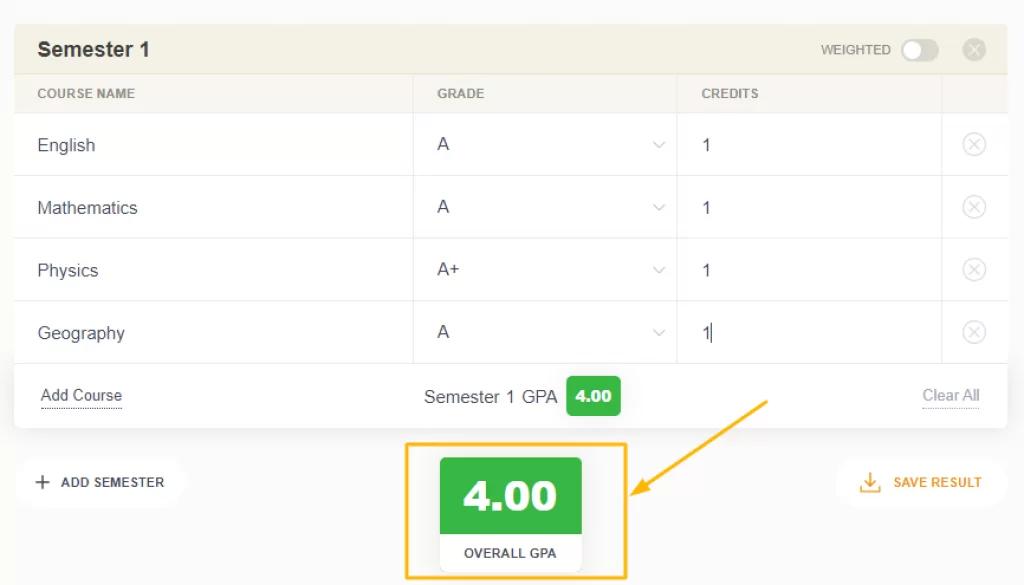 How to Convert Your GPA to a 4.0 Scale
To convert your GPA (grade point average) on a 4.0 scale. you need to know your top grade which is an A and it equals 4.0.
The overall GPA is calculated by averaging the scores of all your classes, which is the standard scale at most colleges, and many high schools.
Below is the table to convert your 4.0 scale:
| Letter Grade | Percent Grade | 4.0 scale |
| --- | --- | --- |
| A+ | 97-100 | 4.0 |
| A | 93-96 | 4.0 |
| A- | 90-92 | 3.7 |
| B+ | 87-89 | 3.3 |
| B | 83-86 | 3.0 |
| B- | 80-82 | 2.7 |
| C+ | 77-79 | 2.3 |
| C | 73-76 | 2.0 |
| C- | 70-72 | 1.7 |
| D+ | 67-69 | 1.3 |
| D | 65-66 | 1.0 |
| E/F | Below 65 | 0.0 |
More Calculators